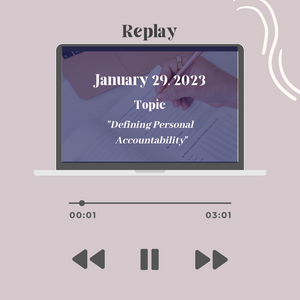 Did you miss the first Accountability Group Session of the year? Not to worry, watch the replay here!
This session was a great introduction to The Goal Accountability Program, what you can expect from the sessions moving forward, and expectations of the Accountability Partners joining the group each month.
We also discussed:
✅ How to use the Consistency Tracker & Priority Pages in the She Has Goals Journal
✅ Defining personal accountability & taking ownership of your goals
✅Each Partner analyzed where they are and where they wanted to be
✅ We completed the Monthly Recap Prompt in the She Has Goals Journal to Reassess, Reset & Refocus for the month ahead
Lastly, the Partners were given their assignments for February
Watch the replay now, and sign-up for our next session February 26th.