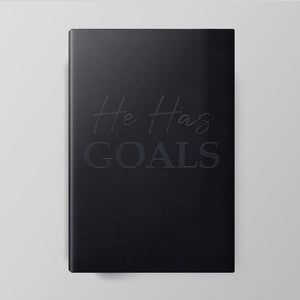 Oh, yes! Our highly requested He Has Goals Journal is here.
Adapted from our #1 journal for accountability and consistency, She Has Goals Journal, this un-dated accountability journal has been designed to fit the needs of your goal-getting man.
Finally! A blueprint for him to accomplish his personal and professional goals while building better habits. You served as his personal diary and the person with whom he shared his goals and aspirations. Now let the He Has Goal Journal help him achieve success and mental clarity.
Inside you will find:
An area to write your goals in every major category of your life
Monthly, weekly & Daily Accountability Prompts
Daily Priority Trackers
Consistency Trackers
Notes Pages
Self-Assessment Prompts
If your husband, brother, father, or best friend is tired of winging his way to success and desires more consistent accountability, this is the journal for him.
How much more could he accomplish if he kept a guided blueprint as a journal?
The He Has Goals Journal can assist your favorite guy in achieving whatever goal he has! Surprise him and show him your support by grabbing one today.